day off in london, we assembled at the k-west hotel with crews from many other tours in town for this that and the other. a serious high school reunion of roadies.... i saw miss Abby, the wardrobe geisha here with Prince & tour manager
Marguerite in town w/ the Used. Scuba Steve as here with the rolling stones---nothing like seeing your friends when you are out of the country.
2 show nights in Brixton and one night in
manchester—i was enchanted by the comment to me from one of the local crew: i could listen to your accent all day. i stopped, me? and of course, had to smile. guess it is true, we sound as charming as they do to us...!
we picked up 3 lighting guys, Ben, Ross & young Darragh from Ireland. also added three caterers, Mike, Sean & Jolene, our blond dining goddess, who completely stole my heart. how they got out of town without being photographed by me, i will never know...all i can say "mistakes were made"...
our buses were crowded to the hilt, but we were fine with it.
the food was delicious and we had excellent company, someone to ask for the right kind of tea or to toast your bread when the toaster was put down for lunch.
that is one big reason why you take catering with you, when you can, it means that it is a familiar face in the dining area, someone who knows you don't like tomatoes but that you do like a certain kind of wine..
Lola and i went thriftshopping in london and found some great little off-the-map places. I wanted to buy this typewriter, but really i couldn't carry it. there are many orphan machines in the US that i can adopt.
we also tried mushy peas (my verdict was definitely a no)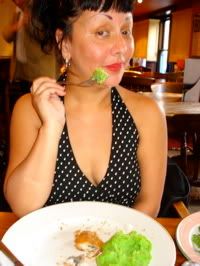 and i bought some PG Tips for 95 p. just because it was only 95 p. I also learned i can't count British pounds fast, like i can american dollars. they are too big and incidentally, they spend way too fast,
our dollar is puny compared.... on to paris, we took a ferry across from the white cliffs of Dover.
I always think of the Dumas story of the 3 musketeers, ferrying in through Calais—
we watched Frank Miller's300 going across the countryside of france, captain roberts ran it into the ground, but i loved it. still had a problem with the narration but again, i thought it was so beautifully done.... "tonight...! we dine...! in hell...!"other Boss is in China & i hope all is going well for him.
last night, we got into Paris, just in time for me to put the daysheets under the doors of the crew and then i jumped on the metro to get out to my cousin's home. She picked me up at the station with her two tiny sons who laughed at my weak attempts at french. they are just beautiful.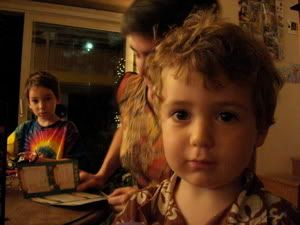 we ordered pizza and had wine, and talked. it was so good to be in a real home, not a hotel or a restaurant –wish i had more time there, it is so easy to be with Maura, the companion of my childhood.
so just when you think your red velvet heart is going to break in half from wanting to be home,
i got to watch the jesus and mary chain play "just like honey" and go transported back to another time. they still had the magic. winehouse again a no-show, and we have to leave before bjork, boo!
tomorrow area 4 festival. things to look forward to? two nights off in Biarritz. we are staying at a beautiful coastal hotel under the watch of Viking ghosts that settled (conquered) in this whaling town centuries ago.
here is a view from our hotel in Paris: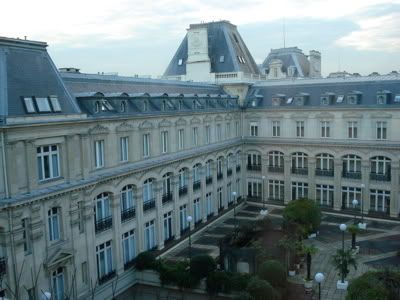 here is a view from the venue in Brixton:
tonight the boys did a trial run of the pack for the Antonov, the cargo plane that will carry our gear from Belgrade, Serbia on into Athens. many of the crew are extending their tickets to stay in Istanbul but not me. I want to see Batman.