I am reporting today from the greater Portland area---from the film set of Coraline, Neil's newest book come to life on film. This beautifully odd story about "other mothers" and secret doors is being made by Henry Selick @ Laika. Henry, who created the amazing Nightmare before Christmas, Tim Burton's vision, had a cocktail party for Neil where we met his family and many of the Laikans who have been working so hard for so long on the film. To make about one minute of finished film, can take up a week of time, maybe more, all told. (this is approx, mind you)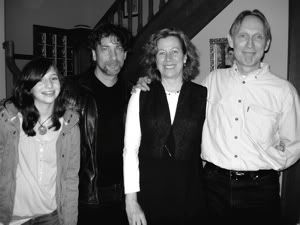 Here is a photo of our resident DJ Harry, Henry's son, who was responsible for the beautifully diverse & surprising music at the party. I met Heather, Henry's wife, who was a fascinating woman, a gracious hostess and very devoted to her man. The house was studded with art and props from the films that Henry has created, i am so in awe of his vision and talents. The first thing I saw when i walked in was an original Mark Ryden painting, *sigh.
Yesterday we went on a studio tour of construction and sets (there are over forty active sets!)
We were on hot sets that I did not photograph, sensitive properties that are not yet to be released to the public. What I can say, this movie is going to be ageless, transcend the years, the set of the "other house" and the glittering sky there is one thing i will always remember....A dream sequence waiting to be dreamt.
This is where Maddy made quite a splash as the on-air correspondent at the behind-the-scenes DVD extras etc
Maddy interviewed Henry & her Dad and the wardrobe lady, Deb and the head of puppets, George---
she was a natural, had no hesitation in going after the question, making sure she was looking at the right camera, everything went so smoothly. Here she is having her hair & make up done...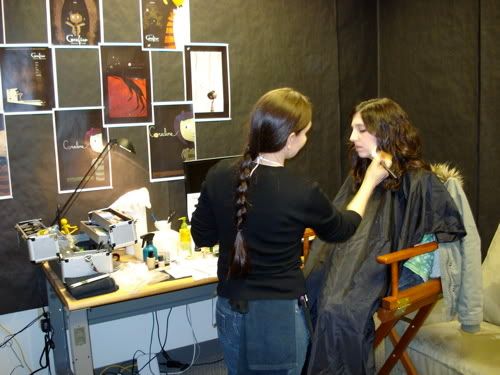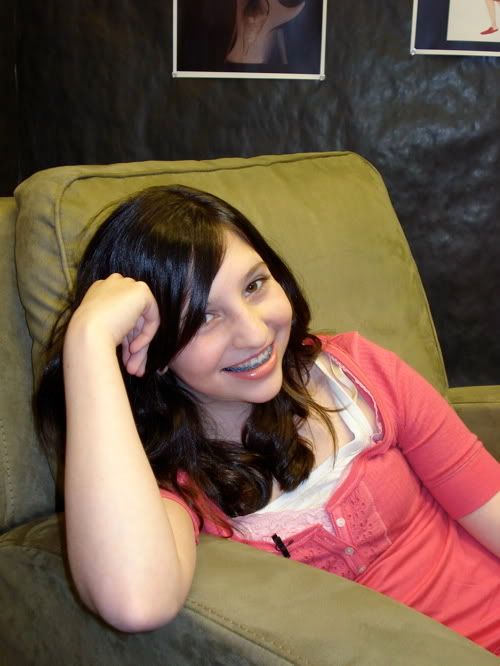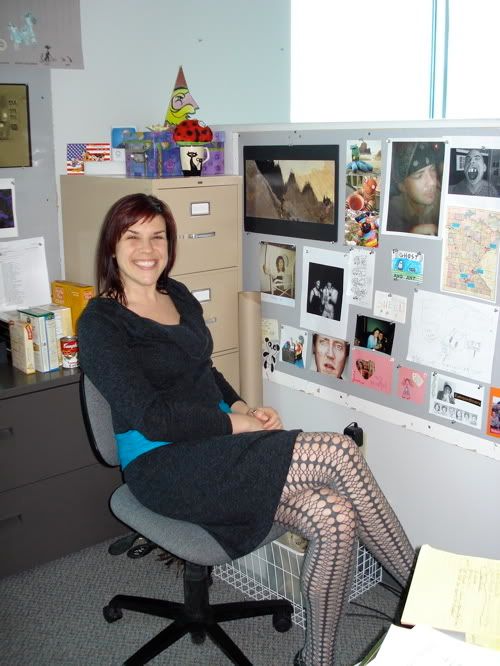 This is Shelley, Henry's amazing assistant, & girl Friday and superwoman, Look at her tights. Astounding. She & her man Kevin came out to see me on the Tool tour, so it was her turn to show me her town, her gig & her way around the magic. Ask Lorraine, she will testify. (And our FabLo's standard bar is set so very high.)
Shelley fed us breakfast & she fed us well.
However, during the filming i heard a rumbling that i thought was an errant cell phone...it turned out to be head of marketing's stomach growling. It was so cute, she and i shared a moment of levity on the completely quiet & serious set.
Right now i am sitting next to Boss while he does a signing for the crew of Coraline, an internationally mixed bunch. They have been working so hard on the film, and it gives them a chance to meet the mind from which such a story sprung. Neil, as always, was very generous with his time, for a sincere thank you to the crew.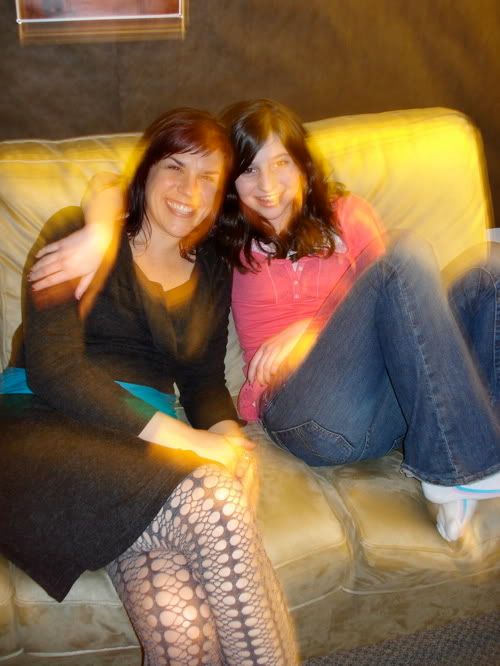 We walked in the sprinkly rain from the hotel to a sushi bar, w/Merrilee, Neil's literary super-agent who came in from NYC to see the progress. A nourishing meal of fresh fish & rice, and good conversation.
This is Maddy about to eat the chocolate pig that Laika left for her in the hotel room.
Speaking of hotel,----- yesterday I rode up in the elevator 9 floors chatting away with the ever-lovin' SHaQ! SHaquille O'Neal...in town to play w/Phoenix against Portland...
He asked me if i was from Portland, i said, no i am from where you once where....hmmmph. man, he really is tall. More photos tomorrow, i can't download the ones i just took of the signing line, until we return to hotel. Tonight we see lots of old friends, and i am looking forward to hanging out with Nancye & William on my last night in Portland...
then off to the frozen lands. I will get my winter fix & my Quiche & MiM & Princess & Misty fixes.
xo