i know this is my tour blog, but sometimes we need to break a rule, or seven.
for years, Drew has been scouring the petfinder ads, he wanted a kitten. Not just any kitten. a Maine Coon kitten!
apparently NO ONE gives up their Maine Coons. and now I know why.
This breed is the most even-tempered affectionate cat I have ever met. and soooo beautiful.
Our friends Breck & Laura introduced us to their two super-giant cats, and gave us the information on where they got them. We drove out this week to meet Alex, and to meet our little guy, who we pre-named Jonesy, as the only cat survivor in ALIEN. Smart lady, she had ALL NINE kittens out. Of course, we went bonkers, and adopted RIPLEY to go space-exploring with Jonesy.
here is the first photo she sent of the litter of babies.
COME ON! look at those faces....
One of the conditions of adoption, is to adhere to a raw meaty bones diet, which we started with Batman & Selina Kyle. They have taken to it, completely and totally. To see them like tiny tigers, gnawing on their meat, as nature equipped them with the scissor-like back teeth.
We also got different cat litter, the pine pellets. Much cheaper and now there is a line at the cat box-- they love it!
so we finally met the kittens and here is Drew holding Jonesy:
here is their cousin Gatling, who is an 8-month old boy who is still growing. Ripley is sitting on his tail and Jonesy is lying down behind him, all pooped out from playing.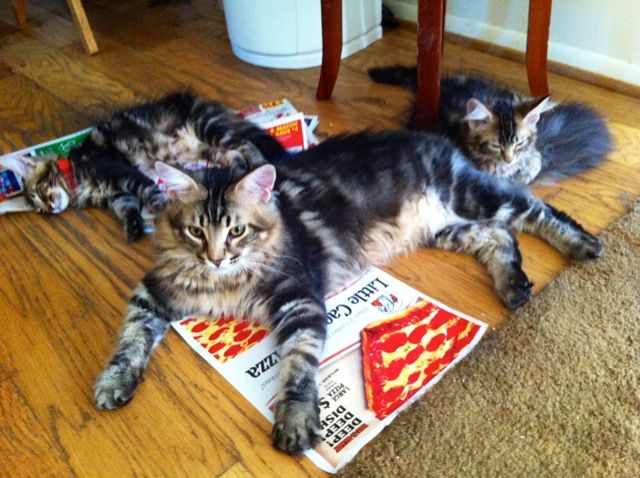 and here is the sweet girl kitten, such a loud purr machine.
we are transitioning the house and the other 2 cats for the royal twins arrival, the adventures are just beginning....