the last time I was in Copenhagen, i stayed at a hostel that was a converted, off-season hockey rink. This visit was a layover in an airport, where i bought a cut up apple in a bag & had yogurt & meusli in my travel partner Anne's honor....
We flew into Hannover & got on our tour bus. It is a beauitful double decker bus, that feels more like a ship. My bunk has a window (porthole?) in it, through which i watched the German countryside roll by.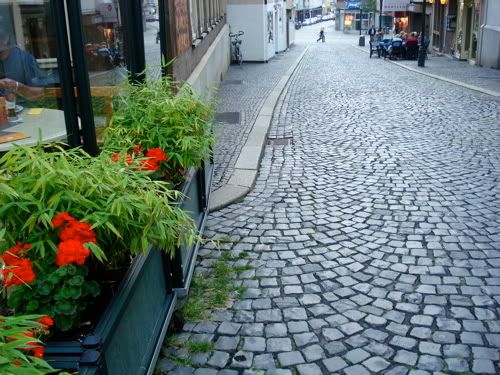 Crashed for a couple of hours, since we had had no sleep the night before (and i mean, none—planes, trains & bus) When we arrived at the hotel in Hildesheim, the most efficient hotel lady greeted me with all the keys ready & even a demo on how to open a room door. *sigh of relief. The German trains really do run on time.
Opened my window to look out over a beautiful square w/ buildings full of character & spirit. Made me so happy.
We had Chinese (again) and the next morning, ready for lobby call... when i awoke, the square, if possible, had grown more charming, now an open-air flower market...
.
Oh, and everybody smokes in Germany. Forgot this about Europe. I admired this cigarette machine in the hotel lobby.
Joe Paul & I met out in the square and people-watched. We sat in front of the most beautiful carved stone statue. The M'era Luna Festival is a big goth magnet, so the kids are out in full force.
Me, i am looking forward to the Skinny Puppy set.
the next day: yes, Skinny Puppy is not until Sunday, & we are in Poland, so we missed it. They came to our show though. "Gin-CO-ya" is thank you in Polish.
Our show here in Katowice was to be a bill with Chris Cornell, ex-Soundgarden, i was really looking forward to that set. unfortunately, he has canceled his shows for the beginning of his Euro tour. boo!
I had the best cabbage tonight in catering, and now it is time for load out. Drew is going into two shows with Timberlake @ madison square garden, doing an HBO filming...ugh.
poor darlin'. more soon. tomorrow I got to Budapest for the first time. Andras, where are you? "Ko-sA-nome" is thank you in Hungarian...that is the best word to know in any language....