My first ComicCon...ever.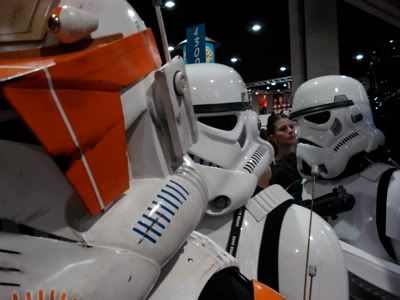 Was guided through the ropes by the ever-amazing Pam who is a blend of Elektra, Wonder Woman & Harriet Tubman.
She was able to get us from point A to point B with precision accuracy. I have an official non-gay crush on her.
It was a wonderful blur of hotel rooms, the ComicCon panels, the showroom floor, the escalator, the green room, the screenings, the panels, room service, cocktails by the pool, cell-phone-ear & juggling meetings like a flamethrower....deep breath!
Malena, Drew, Ethan & Lauren were manning the Neverwear booth, as we debuted the Neil merch--i only wish i had more time in the booth, but the cloning experiment failed (again). Maddy was full support team with her Maddy TV spots and her sparkling smile. I love that one.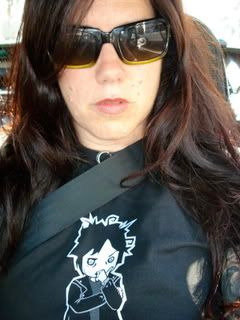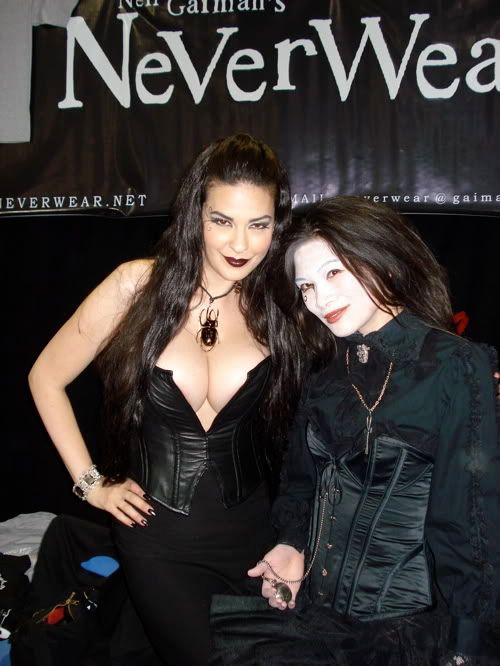 The high points? oh so many......
meeting Lida & Kostas from Greece, his drawings were stunning. check him out @ www.kiriakakis.net. See you in Athens @ the Tool show, you two!!
Boss had two signings at the Comic Book Legal Defense Fund booth, both run with marshalled spartan accuracy by Charles & Greg. These two are going to be in my movie, finer men, i have not met.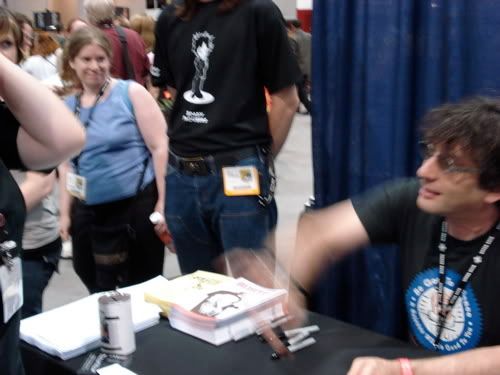 Running into Kevin Smith. (yes, i just jumped right in, sometimes one simply must)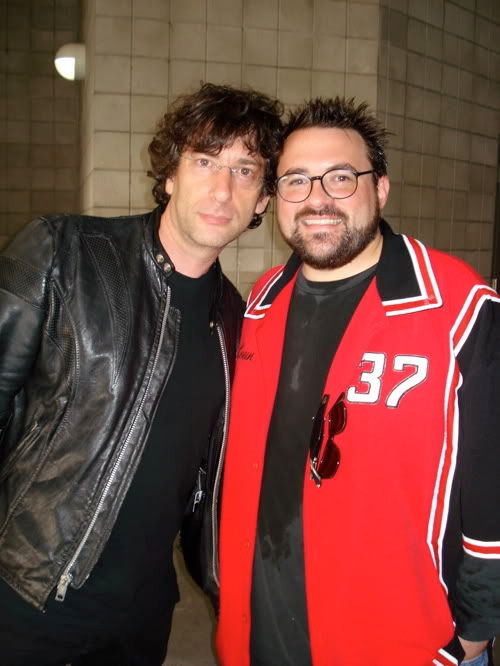 Meeting Matt Selman, a sweetheart & big talent behind the Simpsons. (& yes, we saw the movie, best part is the Flanders hot choc scene--but where were the aliens!?)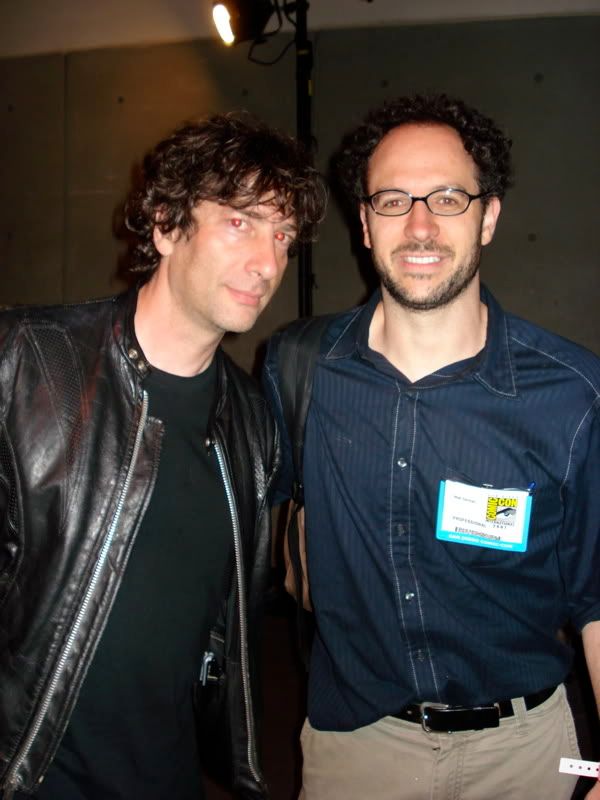 Hanging on the balcony of the hotel overlooking the marina.
Enjoying the razor wit being traded back & forth between Neil & Jonathan Ross. (not to mention THE kiss)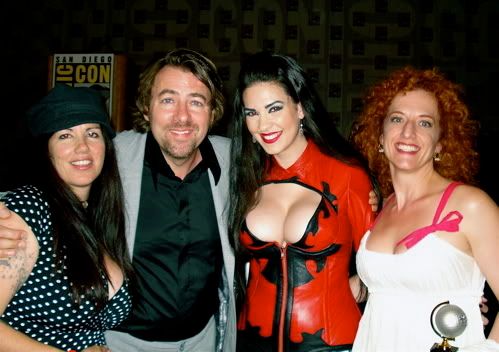 Flamehaired Jane Goldman, telling the story of how she came to write screenplay for Stardust.
the Paramount screening of some footage of Beowulf, meeting the delightful couple Roger & Gretchen Avary.
the footage in 3-D no less left me sitting in my theatre seat, unable to move. I now have a crush on an animated character, brought to life by the forcefully understated Ray Winstone. yeah, the sexy beast guy. this is the event of the holiday movie season, and i am not kidding. must not forget to mention La Jolie with her flexible spine-for-tail.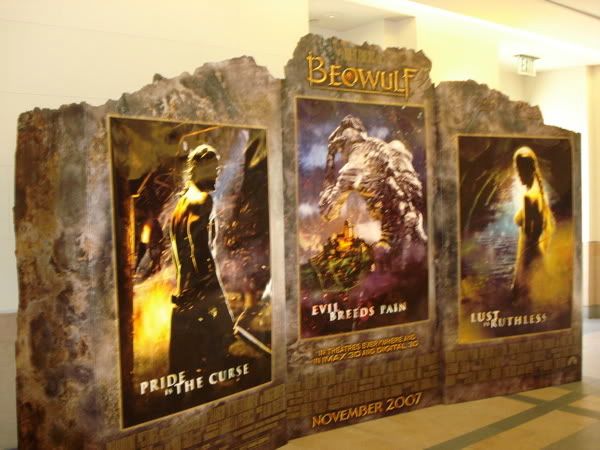 watching Jill Thompson win her Eisner w/grace & style.
Todd Klein, the comic letterer to aspire to, came by our booth & had one of his prints available, this being my one & only purchase @ ComicCon, and i went home happy.
went to the premiere of STARDUST, it was even better than i remembered, the ghost brothers being my very favorite bits.
De Niro was there & Coop & Ruth & miss Danes & more people than i can think to mention right now. our author looked so handsome in his tux. Red carpet ready!
the cherry on the sundae?
sharing dinner @ velvet margarita with my guy for Red's birthday, after we returned to LA. He is gone already for his Timberlake tour. i miss him so.
Now i am looking at a whirlwind tour with Tool of the European summer festival circuit. I will try TRY to be better at keeping up with this journal. So much to do. I miss everyone. Flying to Norway on Monday & then we begin a run of outdoor festvals. Looking at the schedule I see we are sharing bills with NIN (hello ! PAM!) and Arcade Fire & Jesus/Mary Chain...etc.. Will post my dates again. In doing my advances, I also see that we end with a four in a row, going from Serbia to Croatia to Athens to Istanbul. ...what!?!?
Here is my Tool boss' method for cell phone repair. This one never fails to make me laugh. When i heard him over the radio calling for a claw hammer, I had to drop what I was doing and run to the production office. Too late! So i post this battered cellular device at every venue to show them how we roll on the Tool tour. hahahahAHAHAHAHA