well, i write this from my death bed. it feels like this sickness is going to win. i haven't been sick in some many years, not since i accidently drank the water in egypt & was hallucinating a math equation so difficult, i bet if i'd thought to write it down, it would win wars.
anyway, writing gets my mind off this hacking cough & bone shaking chill.
my trip back east (which Hadley has dubbed "the old country") was busy & loads of fun, before sick came to live in my house. I had christmas with my family & my little brother gave me & my big brother stuffed facehuggers from alien which we loved: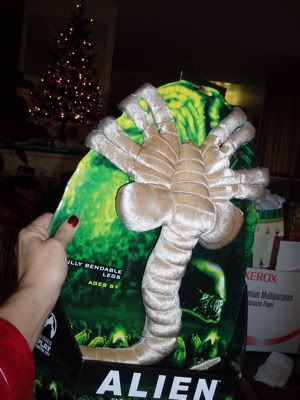 spent some time in baltimore with anne & wendy & lizzie & letty, went to Pete's for dinner a few times, they have some beautiful new art up by Gene of Lucky Star & Karin is still making the legendary garlic bread & salad duo: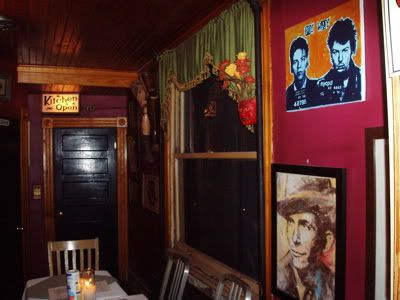 new york was a great time, started off a little rough, what with us waiting 2 hours in the freezing cold for the perhaps-fictional chinatown bus that never showed, believe this to be the chink in the armor that let the sick in...but once there we hung out with michael & had zen palate for dinner & went to lit to try to see the art of david J from bauhaus, alas gallery closed...but we looked in the window...then back to beauty bar to meet up with bunch of tour people, roadie central it was. Jozie & Frankie & Danni & Charlie & Val and more, so good to see everyone, wendy was succombing to the sick by now, and turned in early, and when jozie suggested motor city, i begged off. thought i could handle the sick. damnit.
also Melle Mel, relocated from new orleans to brooklyn, made the trip in to see me--yay!
here's michael on a break from the dj booth with joz, both in their lemmy tees: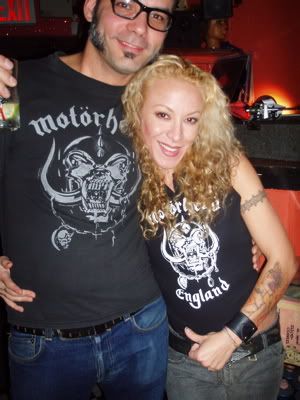 also this dec. saw the reuniting of a dear old friend, Eric, and i was just really feeling the ill as i forgot to take one single photo of him! but was so glad to see him & here his art tales of life. an amazing artist...ok, this journal really must end. i am going to the doctor today, much to my dismay as i really feel like i can beat anything with my mind...but this one it got me. please excuse any typos etc, blame it on the sick. am going to have a re-do of new year's eve with the chinese new year, and maybe my people can make it up to me about that chinatown bus...