came home from Zombie/SLayer tour and had a little rest...
just a little.
then I flew out to join miss Jessica Rabbit on the Kills tour.
It was a mini-run, up and down the west coast.
...much like what Neil and AFP are about to do come Halloween time, check out their
Kickstarter project HERE.

I didn't want to put all these photos up on the Neverwear blog, but i did want to put them up here.


The Kills turned out to be one of those magical little tours, where you find yourself haunted by the music.
here, see for yourself, this footage from the Bumbershoot show in Seattle:


(i was running a spotlight on this show, can now add "lighting girl" to my resume, haha)


we shared the bus with the band, and they couldn't have been more charming.


I saw Cyn in Seattle and Nancye & Nicola in Portland, so you know i was happy.


playing under the Space Needle, we shared a stage with the Butthole Surfers. (**i'll never forget my dearly departed Aunt Maggie telling me that BS had to be, bar none, the stupidest name for a band---)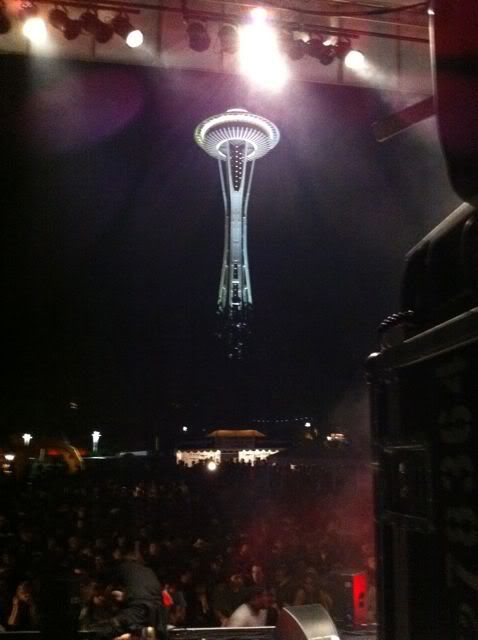 We stayed at the Ace Hotel and my room theme was very fitting:


Nico and Junebug and their new puppy :


Crystal Ballroom in Portland:


Rabbit & i shared an office daily:


(Bunny broke a nail on a CD box...)


we had to make a time-out chair in one city, but i forget which one...


we went to Canada and I found this Ovechkin model:


Mark left me a chalk note in Vancouver, and apparently it is still up!


high roller on my hotel bed:


we played the Wiltern in LA:



and House of Blues in San Diego:


part of a poster in the dressing room hallway, Grover has always been my favorite:



we had a couple 2 pm load ins, which was stunning to me. I could really get used to that schedule...


The we drove straight from load out of last show in San Diego to LAX and I got three hours of sleep before getting on a plane to JFK to do the big metal show at Yankee Stadium:


I had never been to Yankee Stadium, they don't want anyone walking on the grounds:


so they put down metal plates, i guess it helps, but it would seem like it would smash the grass worse...?


loading in:


it was like a high-school reunion, i saw so many old buddies...
Adam in video village, i toured with him on Gaga, he gave Drew the worst nickname ever...ha! (don't ask)


three of my favorites, Tim, Warren and Sonny:


Warren does his line check:


My office phone:



getting the VIP ticketing info ready ...


night time in the stadium:


there was a little golf cart incident, this was the side of our production trailer (no, i was Not driving):


found the Utz motherlode downstairs in the dressing room hallway:


went out with the crew after the show, the boys bought me a high-priced shot of MacAllan 25...

meanwhile i had a great video clip of Metallica doing "Enter Sandman" but some blip in the force is not allowing me to load it.
boooo...will work on it, because it really was amazing out under the full moon with the lasers and the pyro...
here's a still:

but can you see why it takes me FOREVER to do a post these days??!?