i grew up loving every kind of horror movie, tv show, charles addams cartoon, creepy comic books (thanks to my brother!)--
Halloween just lives in my heart. When Malena sent me an invitation for Miles' group artshow being held at Rick Baker's Sinovation Studios, it was like getting an invitation to Valhalla.
The studio was tricked out like a graveyard, and there were pieces there by my hero Bernie Wrightson, Dan Brereton (*sigh)
and William Stout, to name a few...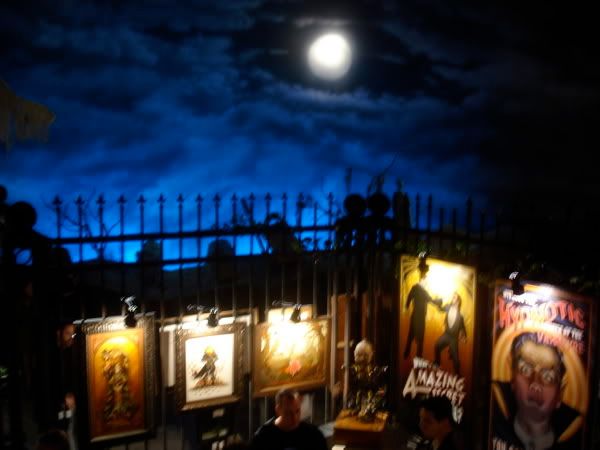 An artist new to me whose work i was drawn to like a magnet was Ragnar, simple graphite drawings on paper, but it struck me in the heart, thunderbolt-like. There was a video loop of Michael Doughtery's upcoming scary "Trick r Treat"--oh yeah! and let's not forget the letter-perfect
Miles Teves
Here are Red & Charle by the classic portrait Miles did of Malena, can you see it in the lower right hand corner?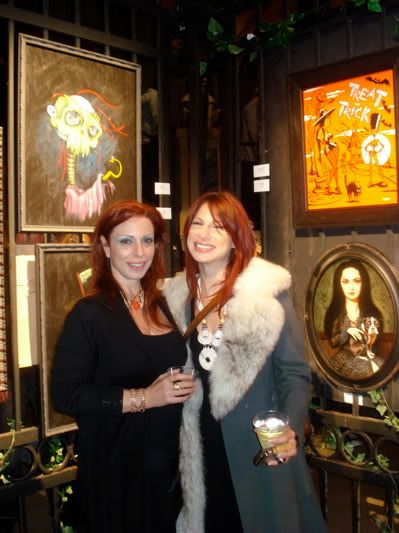 here Charle photographs the display of movie masks (Miles did the green one for the film "Legend")
Then we went upstairs into Mr. Baker's private viewing room, no photos allowed, sorry. It was truly an education in movie magic. From American Werewolf in London to Men in Black to Nutty Professor, Batman to Ed Wood, the models were on display. I will always be grateful for Miles inviting me. As we came down the spiral staircase after the tour, Rick Baker himself was at the bottom, I gave him my best million-dollar smile & said my thank yous. He was a true gentleman.
Here is a photo of Miles & cowboy boot-wearin' uberartist Coop & Malena & Miss Ruth, getting herself struck by a bolt...
a truly great night.