i know i have mentioned Ghosty, my car before. it is the sweetest little miata convertible. this car was a virtual gift from the Gorgeous couple Miles & Malena...they gave me such a great deal on it & i have loved every minute of driving him. He has various nicknames such as the Aspirin, the Tic Tac, the Barbie car...
anyway. I have been on and off the road so much I haven't really gotten him a local doctor, and it was time. The Viking told me about ISE auto mechanics right over in my neighborhood. I took ghosty in there to get a tune up. and...a couple hours later,
I got the call every car owner hates to get: "How attached are you to this car>..?"
Craig the owner & Melissa who seems to be the glue holding the place together were very nice to me after i walked over, saying: whhha? VERY attached, thank you very much.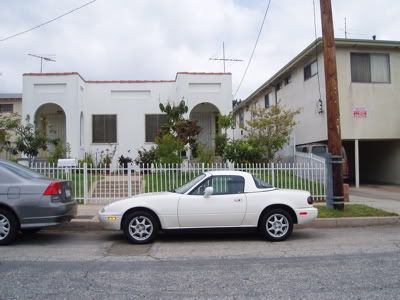 Last year, my radiator overheaed and the upshot was that some of my cylinders were affected. Craig said: do you want to commit to this car? because it will be a costly repair to try to get the problem under control. A valve job head gaskety sort of thing.
All this was said with love & kindness, two tones i am not used to hearing from a repair shop.
So they had the car all taken apart and meanwhile, i also needed a headlamp replaced. Craig said he would call me when it is put back together. I go back, he says: we are going to monitor the progress together. I stand at the counter, preparing to pay, and Craig says: let me go ahead and mail that bill to you. I said: hmmm what's that?
he said: you can go now & pay me later. This is my first time there!
I told him that was best bad news i ever got, given in the sweetest way.
I am in love w/ this auto shop.