some new dates are up for the winter tour Tool, i know there will be more announced,
we have rehearsals in LA for about ten days, and then on to Austin for the first show...
i have to say, this is one of the best crews i have ever worked with
alot to love on this tour...
here is a photo from Istanbul, our guitarist & drummer, tour manager, rynne & me w/the legendary Peter Murphy of Bauhaus...
i fake-fainted when i met him, he was a real sweetheart & very versed in the ways of the Turkish people. he gave us lots of stories.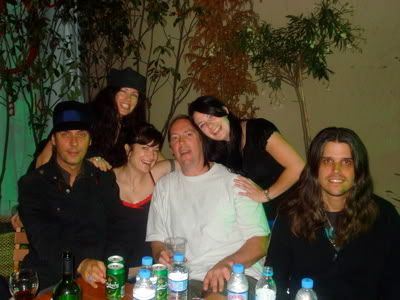 we did our last load out of the European run in pouring rain on the slick decks of the Istanbul venue, i mean MONSOON type rain. We just marvelled at the amount of rain dumping on us. The day had been a beautiful clear day on the waterfront --over all, the show was one of the best of the tour, i think because everyone was very ready to advance toward their homes...
more soon, just wanted to post these dates. who can come see me???
2007 07 Dec Spokane, WA US Spokane Arena
2007 05 Dec Portland, OR US Memorial Coliseum
2007 04 Dec Everett, WA US Everett Events Center
2007 27 Nov Saskatoon CANADA Credit Union Center
2007 25 Nov Billings, MT US Metrapark Arena
2007 24 Nov Salt Lake City, UT US E Center
2007 23 Nov Casper, WY US Casper Events Center
2007 21 Nov Denver, CO US Pepsi Center
2007 19 Nov Tulsa, OK US Tulsa Convention Center
2007 17 Nov New Orleans, LA US New Orleans Arena
2007 16 Nov Houston, TX US Toyota Center
2007 14 Nov Austin, TX US Frank Erwin Center