sitting here on my red glitter chair, feel like i been hit by a bullet train...
yesterday was a 20 hour work day for me & the crew.
but what a great week so far.
got to see my friend Bjorn and his little family, he is back out on Motley now,
but before he left, we all met for lunch @ the farmer's market, they got brazilian, mimi had a crepe & me? sushi, of course.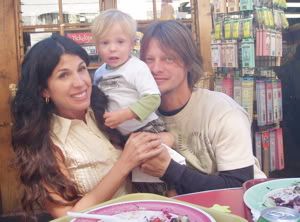 the next night, i went to Marguerite's house, she had cooked us dinner. i was enchanted by the fire burning, we were told to bring champagne or firewood or dessert. (i made the world famous chocolate sushi) We were all roadie girls, so the stories were flying fast & furious. I left early to go & see Abby, in town with bon jovi tour, at her friend rhian's party. it was a celebration for tattoo artist kat von d's birthday @ the rock bar (spelled rokbar, but...?) they had dancers dressed up like kiss, and a dolly parton impersonator on hand. crazy packed, but it was so good to hang out even a while with Ab. it has been many a moon since i have gone into the heart of hollywood on a saturday night, and it was so busy... good to see a real revival in my adopted city.

Mimi is preparing a big move across the country to the Best city in the world (one guess where) & so she has been cleaning & packing and sorting. she invited me to her cute lil' soon-to-be former residence, where she gifted me heavily w/ all manner of items, from photographic paper to colored lanterns & a disco ball. We went to lunch & went to her storage space, yik-yakked the whole time. i am really going to miss her when she goes. watch out for this artist, she's going to take over nyc. beforehand, she is going to go to paris & while there will see my beloved cousin Maura. art meeting!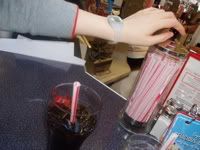 It being Oscar night, i raced home, car full of Mimi-gifts, and played on the floor with all the goodies while watching "crash" take best picture. so Wish i had bet on the odds, cause i didn't get one wrong. truly, though, it was a pretty obvious race this year. especially "it's hard out there for a pimp", oh man, was i thrilled by that win. what a hook, baby.

then yesterday i awoke @ 4 am to work the big rock show, in the pouring rain, and sadly, i didn't have time to take too many photos. after we completely set up the queens dressing room in the press loungey area, the venue people had us move everything one floor down across the stage, & over the hills to gramma's house to a very awful locker roomy hole...oop! the LA forum really should be dismantled, nothing was easy yesterday but working with dean, wesley & miss sarah was a fantastic way to spend the 20 hour day. wes shone the big lights down on mimi's disco ball & everything was awash in fairy lights. pretty funny, on the drive home, sarah rolled the window down on the car ali loaned her, and it wouldn't go up, we drove the 110 at 1 am freezing & exhausted, but feeling like a job well done. and by the time we reached the treehouse, the window slowly closed.