another banner four-star week here in hollywood w/ bonus adventures in long beach as well. Cheryl, a dear old tour buddy from new zealand came to help out at the korn/mudvayne show & we pulled another 20 our work day, ouch.
that's cheryl with her feet up on the coffin case at the night's end. the korn crew all had a touch of some evil nasty sickness which they shared handily. i have gone from never being sick, to twice this year. what?! the full moon eclipse probably added some extra zest as well.
we got to see lots of old friends, the crew out there is fantastic.
i can't say much about whoever covered the hockey ice with the floorboards & carpet, cause i fell down twice bringing the cooler out to front of house, was probably pretty funny to watch, like a cursed cartoon kitty. let it be known i didn't spill a single cube o' ice nor broke nary a bottle.


Friday night we went to see the big gen art show @ the Park Plaza hotel, where i used to go years ago to power tools to dance all night. cheryl's friend was one of the designers in the show, hajnalka mandula from vancouver. The sets were great, a bright yellow swing set for kit pistol, a giant pirate ship for unhee & mandula had a oversize cocoon egg that the models played in. parking was a nightmare but it was well worth it. really glad we went.

after the show ended, we came back to hollywood to go to the rainbow on sunset to get Jozie, in town on a break from motley crue. she was there with alecia and lemmy & yes, he was sweet as could be. after that, we came back to the treehouse & rested up. mark is out prepping bob dylan tour, so it was a real girl slumber party...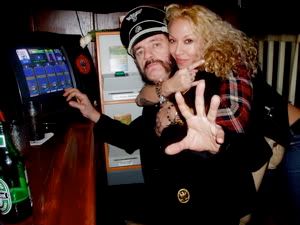 saturday we woke up and had a grand french breakfast in silverlake & then went for long walk around the neighborhood, showed off my new office/studio & went to see the group show @ la luz gallery. for dinner we had tapas @ cobras & matadors, marguerite came to meet us & we laughed all night.
this morning we got up @ 6 am to head over to LAX put jozie & alecia on a plane down to mexico city, and ran headlong into roadblocks set up for the LA marathon. oy. but we made it in time. sometimes you just need to be with your girls.

i just got home from a birthday dinner with the Nicoles & Alex, coconut shrimp, rice & black beans @ cha cha cha. mmmmmm.
wish i could sleep in tomorrow, but duty calls. got to get my new car (yes, i am getting a convertible, from my dear Malena & Miles) get the studio sorted out, and start prepping my upcoming artshow. will be making the invites soon, loads of new work to show, really can't wait. life is truly so good...