I wanted to post part 2 of the BonJovi/Bruce shows--- I had never seen Springsteen live, now, i am a fan for life. My brother Bill, he was always right...anyway, I have been slowly downloading his library.
"screen door slams..." his words sound like movie directions...
Red came out to one of the Bruce shows, she knew many of the crew as she used to tour- manage Clarence Clemons on his solo project. Before the show, she dragged me into his dressing room, introducing me as her "west coast wife"—well, that cracked everyone up. What a charmer CC was...and when Little Steven came through the door, it was amazing to see how much he was not Silvio in real life...he really brought that character alive for me in Sopranos.
I saw Steve Bing backstage and congratulated him on Beowulf; he just crackles with energy, possibly the most alive man on the planet,
We did the last Bonjovi show at the Staples Center. Sarah and I took the FOH cooler out and then went to find Jack Nicholson's Lakers seats. We thought we were in the right spot until a building guy came over to us and said, "Nope, ladies, Jack only sits on the floor"...we ran off laughing.
When Jon B arrived, the Lakers girls were there waiting as his car dropped him off, and they did an elaborate routine to one of the B-jovi classics. Trust me when I say, every male in a five-mile radius had heard this was happening and gathered to watch. Those ladies are like walking magazine pages, ads for glowing health.
I was very inspired on those BonJovi dates by the wardrobe and design work of Miss Abby. She came with her very own treasure chest of glittery sparklers, and this is what she was working on. go Abby, go!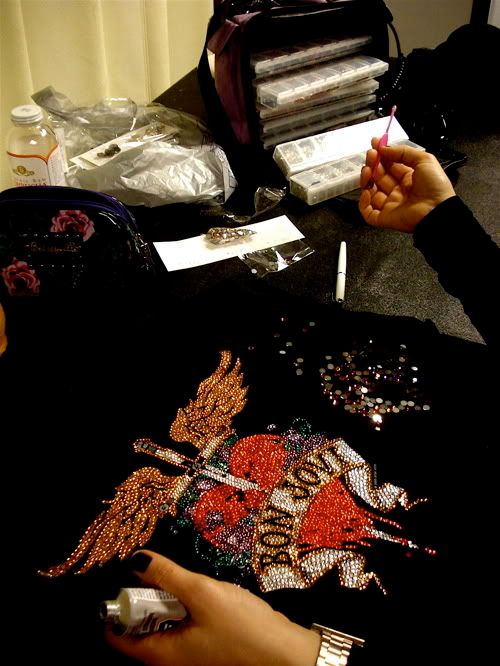 She also gave me a bead source here in LA that i plan on infiltrating with Malena, the other gem goddess. stay tuned...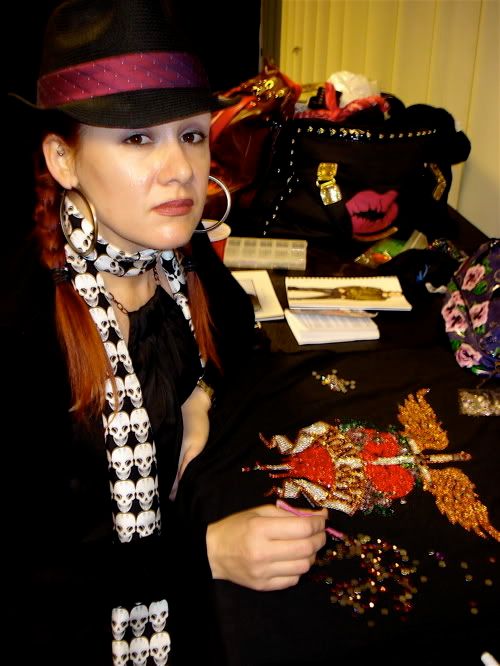 this photo isn't good of this drum kit, but this is the one i want—silver sparkles...
The night at Staples ended on a high note. I was parked in a different lot than the other crew, and when I went out at 2 am, my little Ghosty was trapped in behind a chained gate. I flagged down a tow truck and they blocked me while I drove down the city street sidewalk and exited off the wheelchair ramp. Ghosty escaped, thank my lucky stars...
i drove away with grateful love in my heart---after an 18 hour day...
So next adventure, after Elton John and Roger Waters, is Duran Duran...i am so ready for the tour bus and the best bonus? My co-editor Eric is also going to be stage manager on the tour. The Oilspot will have a second edition...
Packing for a tour is now so easy and second-nature, i almost don't have to think about it.
the best thing? i am now sure, and i mean, convinced, that whatever I forget, i didn't need anyway, or can find out there in the world...