We are all so lucky in our lives.
Night before last, my Drew was home for a night off from the Mary J tour and we were driving back from the Ego Likeness show at Knitting Factory (photos to follow)
We parked at the treehouse to go up and get his suitcase, as we were going back to his hotel in Irvine. After maybe five minutes, i heard a huge crash, like someone had dropped a car out of the sky. The car, a black prius, looked like it had been spit out of a high-speed blender.
the driver, by the time we ran up, had been pulled from the car & was being covered up, he was in severe shock. Ambulances and firetrucks were starting to arrive. Still not sure exactly what happened but this black car hit several cars on the street. I didn't take any photos at night, but i did go back and photograph the van that wasn't towed, the damage to this van was nothing compared to the prius...hope the guy is ok. We do have a lot of street racing in our neighborhood.
anyway, it is truly amazing how something can happen so quickly ---we could have been at the wrong place at the wrong time, only minutes before we were right exactly in that spot.
Lucky, lucky stars watch over us.
Elton John show, i was standing side stage for "candle in the wind" yes, i got a little tear in my glass eye. What a haunting and powerful voice. He snuck off the stage to leave before the sea of celebrity well-wishers advanced and gave me a big smile as he was leaving. a true classic. and in a nice change of pace, the boys of Culinary Underground had to serve the drinks to the legendary star and his entourage etc, us girls got excused. my boss was going to outfit them all in silver hotpants, but instead settled for black v-necks, look at these serving studs:
jeremy & wes (in the middle) are staying at the treehouse with me until we all go out on Duran Duran (which we are renaming Durett Durett, in honor of our stage manager)
tomorrow starts the rehearsals of the Roger Waters tour, another dreamy job for me.
before i sleep, i wanted to post these photos from the other night, Malena and David posed in their Neverwear shirts...(sorry Malena, but it is easy to tell who is the photography king---lalala! ) Miss Malena cut hers up to make some va-voom haute couture...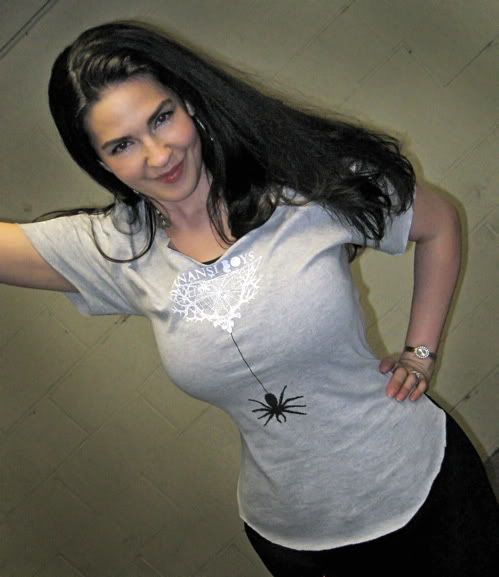 and here are the Salmon girls in their Lil' Neil tees...talk about your Charlie's Angels...