since i have been touring most all the summers i have lived in LA, i never knew it got quite this hot here...this summer i am enjoying being home, going to see all my friends coming through town on tours, trying to be patient and knowing someday i will be on a bus again...
last week was so busy, i didn't have a chance to write anything, Jessica Rabbit was in town with Beck for a few days off & we went over to the rainbow to have a cocktail after a great dinner w/ C$. we were in the back bar, yik-yaking and the guys from disturbed came in & shanghai'd us over to the key club, they were going to make a stage appearance with "metal skool" the kooky metal cover band that packs the house there...it was a complete chaos scene, don't know if the photos reflect that..!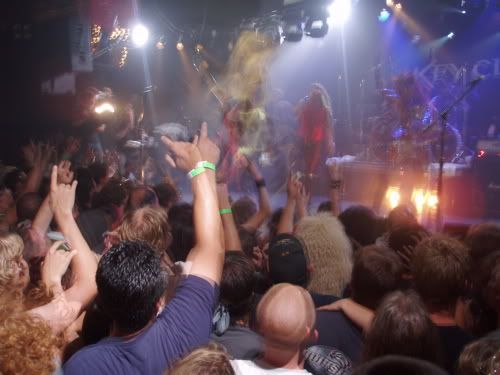 then 2 nights later, Beck played the Wiltern theatre, one of my favorite venues to see a show. The show was stellar, the team america puppetiers created a puppet for each band member, and acted out the whole show on video screen...just wonderful. the mighty Marguerite (my girl is now on myspace! finally!) came with her band of merry men & we had a great time.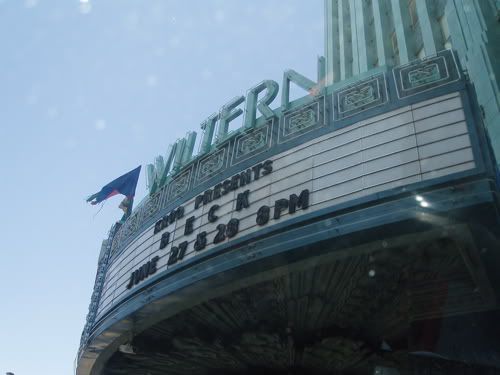 the day before, Rabbit & i scoured the town looking for an appropriate place for Beck to do his after-show show, a habit they got into on the tour, just popping into a bar & playing a secret show. scott from tangier/silverlake/derby stepped up to the plate & hooked us up, the silverlake lounge was so full-on packed, they had to close off the door, and i stayed by the back, out of the fray.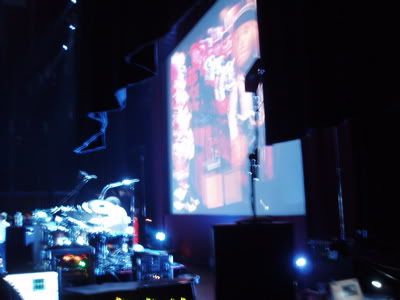 today i got up early to skewer some shrimp & veggies & fake sausage to bring to a BBQ @ jerome & claire's poolside...looking forward to some fireworks, baby!