Drew came home to see me at the same time as Red came home
from tour
and FabLo came to visit from Minneapolis...
thanks go to Pantagruel Val for picking her up at LAX...
it was Grand Central Treehouse.
It was also the same time that George Michael came to town,
so we had a little roadie reunion.
and can i just say: his show was amazing---
some people have it! He thanked the crowd for
spending their non-existant money on his show
and also congradulated CA on being a place where
he can legally marry his partner.
if i can ever retrieve the photos of Red dancing
that I took on her iPhone, you can see the dazzling video screens
and the blur that is our Ace, dancing with stars in her eyes...
GM is tall, handsome and by all reports, a dream to work for.
this is good news. Mel and John are both on that tour,
and they are some of my favorite roadies.
The next day was Malena's Midnight Chocolate event.
photos!
Malena vamped up the store mannekins with her corsets and her Gothic Statue of Libertyness style:
here are some of the jewelry designs...
i lost count of Maddy's bat cookies that i comsumed...perfect blend of purple and melty sugar...mmmm
Cesar showed up!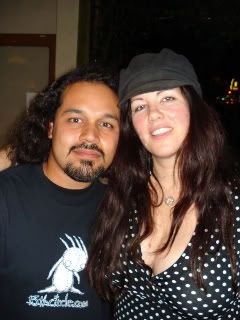 we stayed until the late hours...
Lorraine saved the day by getting the correct cups and the luscious strawberries...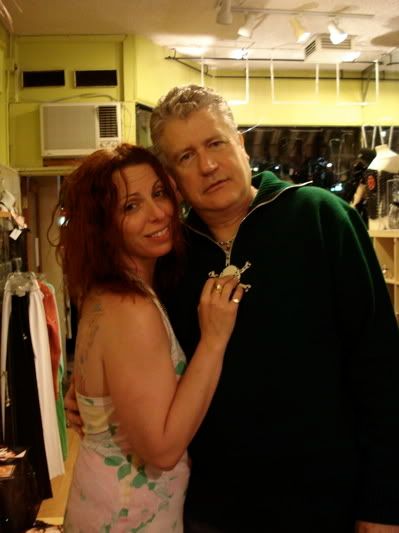 now, here is whre Quiche would tell me to end my blog, but i have to continue...so much happened in just a short time..
we went to the flea market where we all found treasures,
mine being a print entitled "House of Shadows" numbered 5/8 and signed by Welch dated 1961.
when i saw it, i knew it had to be mine, i didn't care that it had some festering masking tape on the back,
and a hideous orange mat framing it. I was ready to bargain, and when the sweet old guy, said, "five bucks"--i couldn't believe my luck. I will give this beauty a new life. future heirloom!
Spinky found a dragon bracelet, that the seller was telling us the "drummer for Duran Duran" was just looking at it, funny, I said, he is in Europe on tour---DOH! then he said, well, maybe it was Billy Idol. slick! Red bought two oustanding neckpieces, an in-perfect-shape Monet long drop and a faux opal (fopal?) tiered number.
QUiche found the stunning amethyst necklace, a woman stopped her on the way, to alert her of its' value, and sure enough, when we looked it up on line, she found that she was the tomb raider deal-breaker. Best deal of the day!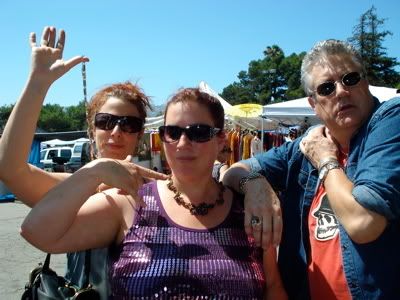 that afternoon we went to the Vista to see WANTED. Glad that Quiche and Malena liked it, i had a few problems with it,
but some delicious action sequences....bending bullets and an unbelievable train wreck....and of course, Angie.
that night, it was full-on karaoke!
here Drew wails on Metallica's Whiskey in the Jar at Quiche's request.
there are some more photos, but must get the a-ok from our MMM.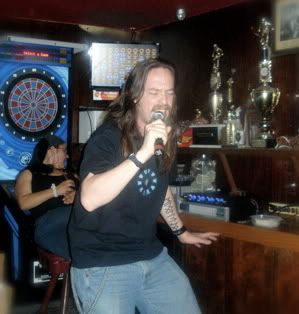 the next day Quiche was leaving, so we went over to Melrose and shopped among the dead things in Necromance, I needed a wedding present for a friend who collects that sort of thing, yes, Chris X is getting married. Sending out the best wishes!!!
It was coming up on Drew's last night in town, before he went back to his tour. Malena and MIles invited us to see a pre-release screening of HELLBOY 2, which really delivered on the goods.
Any movie that starts off with snowfall and Christmas music, you know I am in.
Terrific monsters and while I don't want to give anything away,
i am rethinking the myth of the Tooth Fairy.
They even gave us each sawed-off Hellboy horns. Remind me to photograph Malena in hers, she looked so cute in them--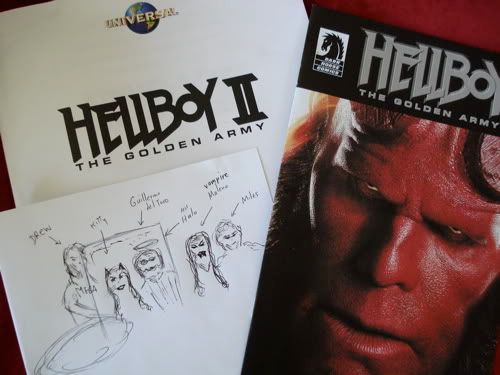 Meeting Guillermo del Toro after the screening was dreamy, and since they took our cameras away, I made a little sketch--
he is a visionary artist and a very funny warm heart of a man. I missed the first Hellboy, although I am a big fan of the BRPD comics, but I didn't need backstory or re-cap, this film stood alone. I highly recommend it.
I will be hard-pressed to beat this week. We still have half the year to try though...
leaving on tour next week-----xo