more than a wee bit behind on posting these great photos i have received from all you lovely Neverwearers...
the gorgeous and very model-ly Nathalie, SpacedLaw! sending to us from over the ocean, she is also wearing her Malena Collection moon dangle earrings...(www.malenacollection.com)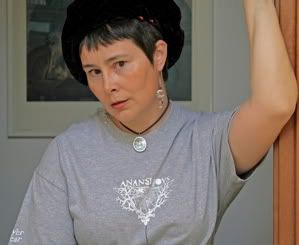 even her kitty cat Caos has excellent taste in literature: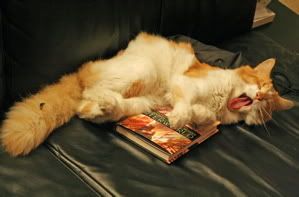 this is our very first customer ever at Neverwear, TiM, the pocketdemon, in a photo that is very cinematic, gloriously moody and all the way from the UK. this is one of my personal favorites...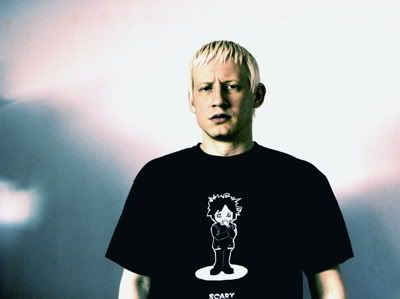 Here are Danth, webgoblin extraordinaire and Glen, look carefully at HIS shirt--i loved it!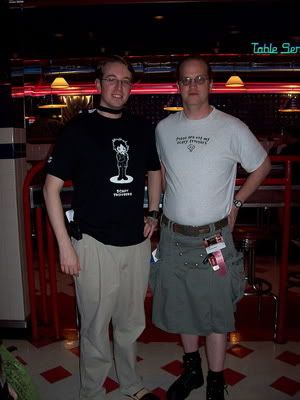 Dame Darcy and Cesar Haro modelling from a secret space: (thank you, Cesar for sending these)
D. Darcy and I both have work in the upcoming Tori Amos compilation book; Comic Book Tattoo, which Mr. Rantz Hoseley master-minded and Neil most kindly wrote the introduction---I wrote a story based on Tori's song SUGAR...coming out in July.
Rantz was at the BEA promoting the book, Neil and I met up with him in the madness:
Honestly, at one point in the day, I had to call in for back-up, trying to guide Neil through the maze, we stopped for a moment and next thing I knew, Neil was being interviewed on camera, and I was losing my cool. We likened it to sharks, we couldn't stop moving or it might mean a certain death. Quiche, how i needed you at that moment, my dear!
here is Mr. Roger Avary, Oscar winner and delightful soul, wearing his Neverwear at the Scream awards last October:
if you haven't seen "Killing ZOe"... go now.... watch..... Eric Stoltz in France...mmmmm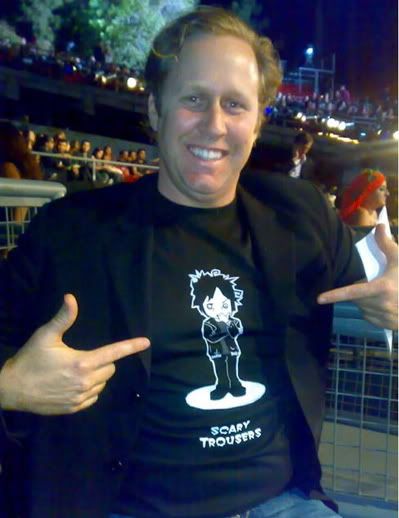 Here all the way from New Zealand, by way of Iceland, is our first lady of Nordic goddessness: HERA, in her Lil' Neilwear:
hear her haunting music at: http://www.herasings.com
our darling miss Leila Brown (who works as a secret agent, i think!?)---here she is in her office, showing off her Graveyard mousepad:
here is my hero, Ruth Waytz, she is a one-woman bomb squad, capable of leaping tall buildings in a single bound, you get the picture----she is the good woman behind the wonderful artist Coop, see their magic at : www.coopstuff.com
here she takes a breather to sling mousepads for Neverwear. Ruth, j'adore!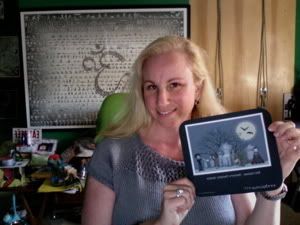 i have saved the very best for last:
another photo from a Scandanavian artist, the Very Fine Jouni Koponen, from Finland. I love what he did with these photos, clever-eyed man.
You can see what he is working on, (illustrating Neil's ODD & THE FROST GIANTS) over at:
http://jounikoponen.blogspot.com/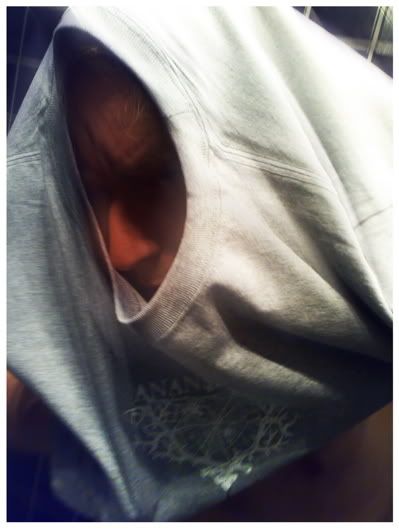 and my very favorite:

stay tuned for more---
Kitty