been in travel mode, spent yesterday in an airplane to Baltimore, Charm City..
visiting friends and family on the way to New York City.
however, I did want to post this second half of the WonderCon happenings.
The Comic Book Legal Defense Fund was responsible for two fascinating events:
on Friday night, the Drink and Draw Social Club, at 111 Minna Alley, patrons of the arts and supporters of free speech could come and watch artists do exactly that, drink n' draw....
the Obama-Lincoln looks just like Nancye's William, our Portland friends.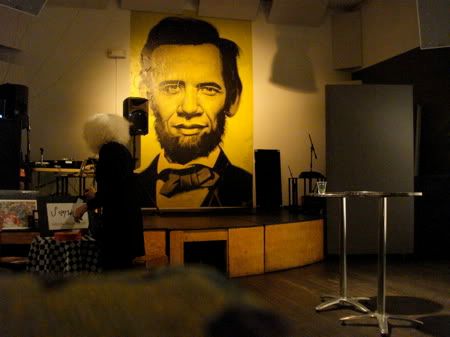 i made this bartender pose for me, just to get a shot of his shirt for my little brother :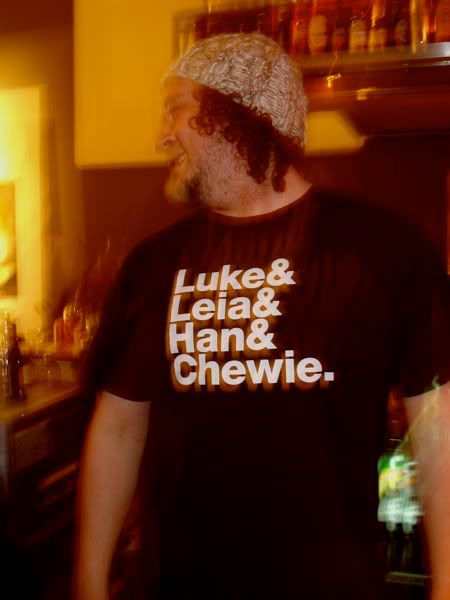 the next day we were up bright and early for the call of duty,
look at these lovely volunteers. (and Bets bought one of "my" books"):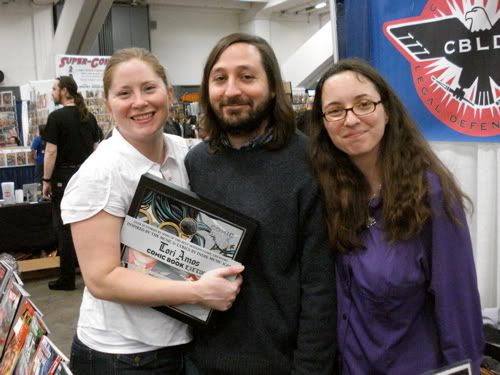 out on the floor, business as usual, look at this gun-toting fairy:
(maybe you can't see her gun in this shot, but it was as tall as she was--)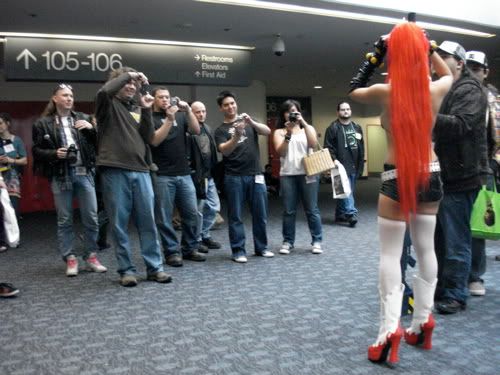 a huge and unwieldly (sp?) BumbleBee Transformer blocked our traffic flow for a bit too long, he couldn't move...and neither could anyone else...Charles went out and solved the problem.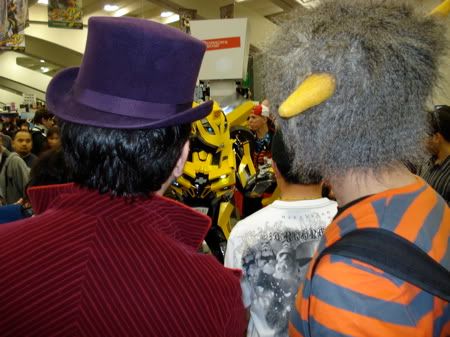 Saturday brought the most interesting two hours of the event for me.
CBLDF sponspored an ArtJam in which comic book legends drew on the overhead and narrated their techniques.
The resulting works were auctioned off to support the Fund.
Jill Thompson, Wendy Pini, Dave Johnson, Matt Wagner and the ever-popular Jim Lee participated.
here Wendy creates one of the
Elfquest
characters: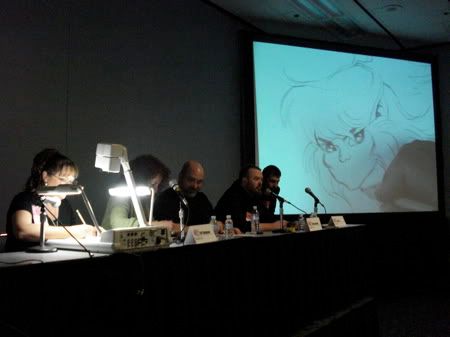 we watched until she finished up with this: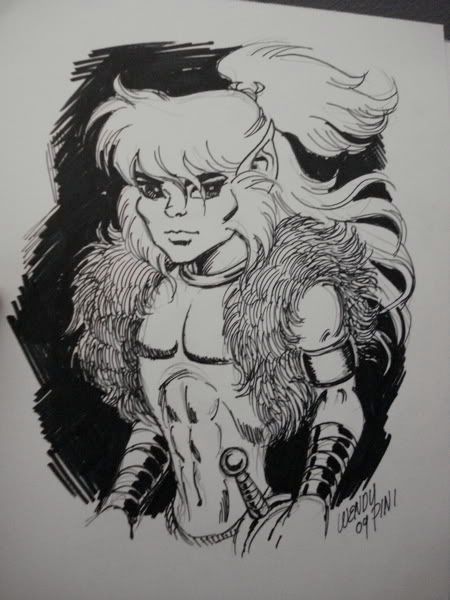 here she posed with some admirers, of which you can count me as one. Delightful lady: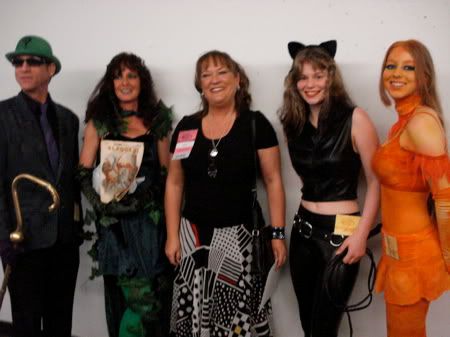 Jill Thompson, she of Sandman fame, ended up winning the Wendy Pini auction, which makes her a double supporter of the Fund! (volunteering her time and money)
SHe decided to do a watercolor demo of the character Death, and I learned so much about shading and light: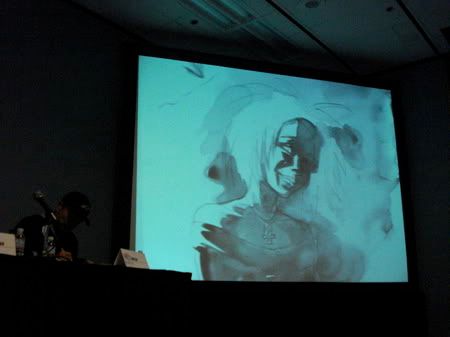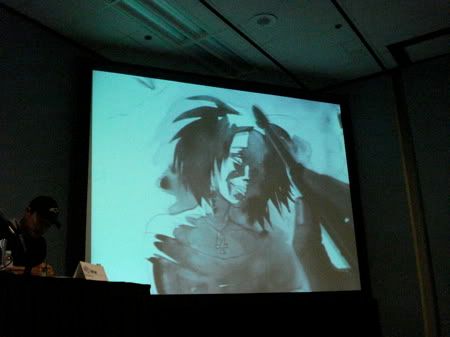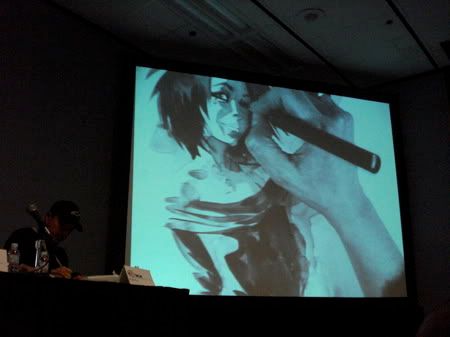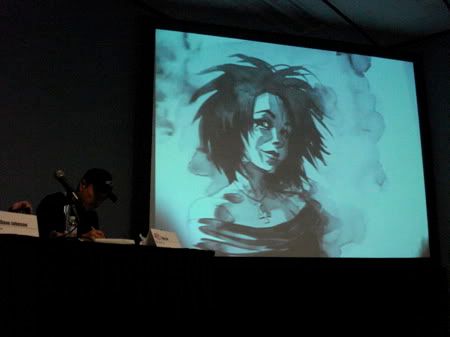 amazing woman, pure talent.
we thank you, Jill.
During Matt Wagner and Dave Johnson's presentations, I was running around giving auction numbers and getting supplies for the artists. When Jim Lee came on, however, I was able to be front and center. I have been fascinated by his lines for about 15 years now, since he was drawing the Xmen books, his Psylocke was my alter-ego for a long time. Actually, she still is.
He drew a WOlverine crowd-pleaser, and made the hall laugh repeatedly with his antics, using props such as hotel key and water bottle top to dazzle us:
watch here in this little video clip I posted on youtube as Jim shows us his magic touch, that man is made of elven charm:
he also dashed off my favorite Batgirl: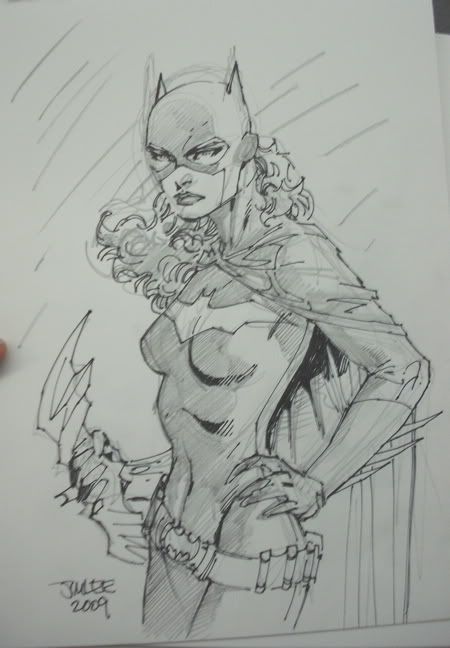 that night we went out for tapas, here Drew and CBLDF Jill mack some teeny lamb burgers...(see Charles in the background)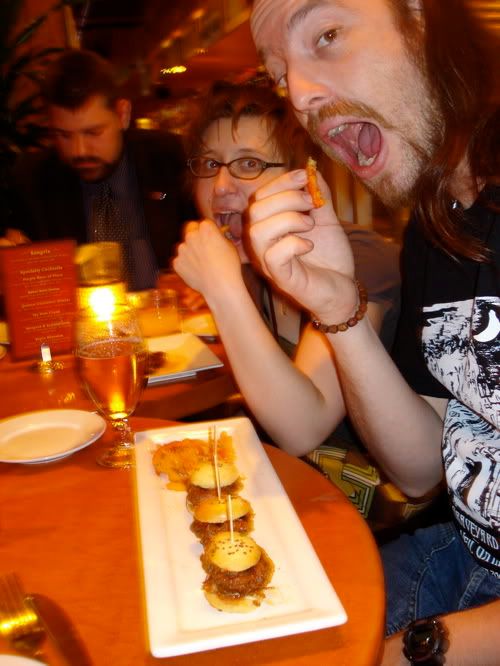 now to catch my train up to NYC to give Neil an assist in his
BLUEBERRY GIRL
signing, with the gorgeously talented Charles Vess. more to report soon---
Gotham City, Kitty out.